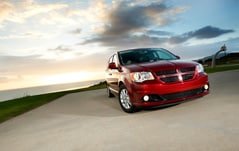 Dodge Grand Caravan - Calgary's #1 Van
There comes a time when you just need more space. A car doesn't cut it anymore to carry your passengers and gear. That's where the Dodge Grand Caravan comes in.
The Dodge Grand Caravan offers Calgarians the space they need, but in powerful, fuel-efficient, fun-to-drive and safe vehicle. Vans today are different than they used to be. No longer are the purely utilitarian, but rather something that meets all of your daily needs. Kind of like a Swiss Army Knife.
Powerful and Efficient
The new Grand Caravan features a 283 horsepower engine that gets 36 miles per gallon or 7.9 Litres/100KM. The new Pentastar engine earned an award as one of Ward's '10 Best Engines' . Should you find that you need to tow 3600 pounds, we have you covered there too.

Safe
If you have driven on Deerfoot lately, you know the importance of safety. The Grand Caravan is the IIHS 2013 Top Safety Pick with over 45 safety, security, and technology features - such as Electronic Stability Control, anti-lock brakes, Blind Spot Monitoring and Rear Cross Path Detection - help ensure that you are always protected.

Versatile
The new Dodge Grand Caravan offers 81 different interior configurations so you it can be whatever you need, whenever you need it.
Ready to drive one?
Great! We have several options for you right now.
New 2013 Dodge Grand Caravan
New 2012 Dodge Grand Caravan
Nused Dodge Grand Caravan
Used Dodge Grand Caravan